The markets are in turmoil.
With over 80,000 cases and nearly 3,000 deaths from the coronavirus worldwide, the markets are rolling over.
And even bigger than the numbers continuing to increase is the fact that the virus has shown signs of making its way to other countries around the globe.
In statements from the CDC on Tuesday, It's not just a matter of IF anymore… It's a matter of WHEN the coronavirus will spread in the United States.
And that's why our markets are finally taking notice. This thing is REAL.
So what do you do?
Stick to your system… well, if your system works in any market that is.
In my last post I went over why my system works no matter what the market is doing. And then I laid it all out there with how I make money when the markets are tanking.
The SPY hit a low yesterday of over 8% below the high from just 5 days before. And after a huge gap down on Monday, the market continued to puke on Tuesday and Wednesday.
The chart says it all.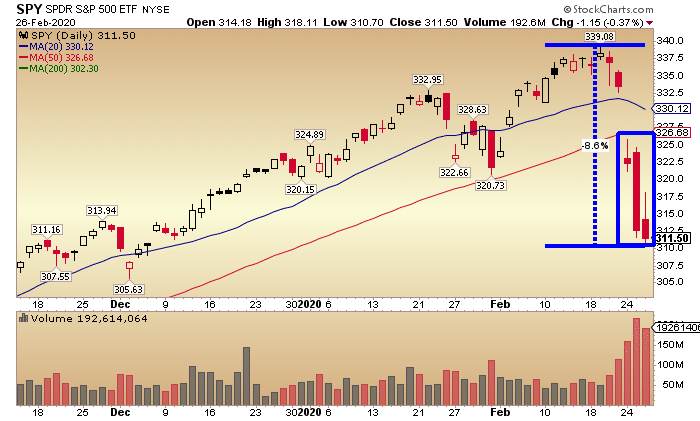 At this same time, my account hasn't stopped growing.
In fact just 5 weeks into a 3-month challenge I'm almost to my goal of a 1000% return on $500.
Here's the proof.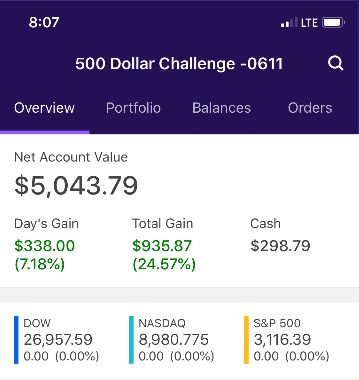 I started my latest small account challenge with a tiny $500 account on January 21.
The goal… to pull a 1000% return in just 3 months. And here it is February 27 and I'm already over 900%.
900% in just over 5 weeks.
How is this possible?
Like I've said… penny stocks don't care what the market is doing.
As long as you have a system that can find the right stocks to trade, you can learn to profit in any market.
Today I am going to walk you through Vaxart, Inc. (VXRT). I called this trade pick live on stage at the RagingBull Trader's Summit on Monday… while the market was down 1,000 points.
See what happened next.
Vaxart, Inc. (VXRT)
After running my scan, I narrowed in on the charts that had one of the patterns I like.
After making a big move up in early February, VXRT pulled back. This is normal, stocks don't just go straight up. They need to breathe.
The pullback ended in a consolidation pattern or what I call a resting phase, underlined in the chart below.
A resting phase is when a stock takes a breather to ramp up for its next move. Here it builds up
pressure while trading in a smaller range. This is one of my favorite patterns to trade.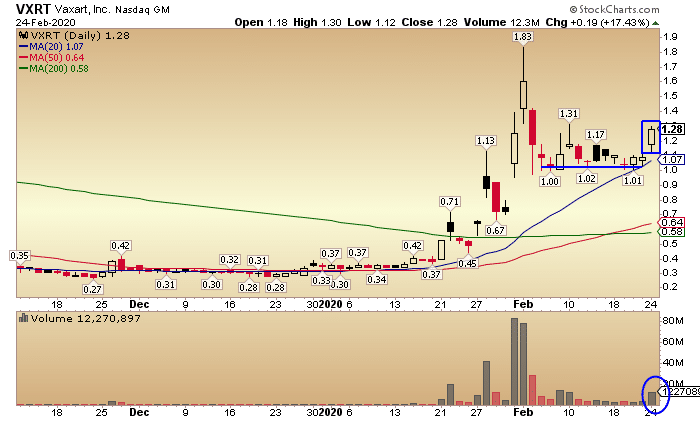 At this point I know I like the setup, but what is the stock doing right now to tell me this is a good trade.
And as you can see, VXRT was trading near the high of the day going into the close. So again this tells me people want to hold this stock. They want to be in it.
This is key for my trades and VXRT gave me what I was looking for so I jumped in and sent the alert to my members.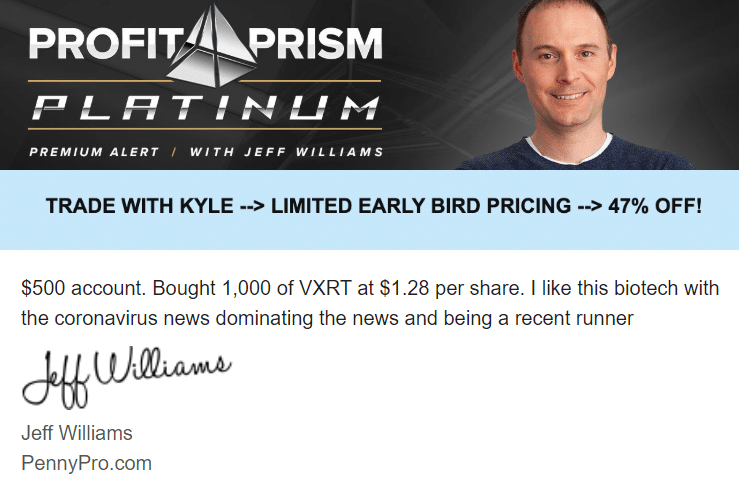 And what happened next?
On the opening drive, VXRT is spiking up currently over $3. That's over 160% above my live call out on Monday.
We did get a little pullback the next day. But looking at the chart, you will notice that it stayed above the consolidation and bounced off the 20day moving average.
That's another lesson right there. VXRT never gave me a reason to get out. In fact the way it bounced on the 20day had me excited for the next day.
You have to keep a level head and practice patience when trading in these markets.
This is something I teach in my Live Profit Prism chat room every day. I want to make sure my members are equipped to make the right decisions so they can grab as much profit as possible.
Feb 26, 2:44 PM
Patrick S. — first day with Profit Prism Plat and made $850 on VXRT and CODX
Feb 26, 12:24 PM
Erik P. — my target for the day is $500 profit I blew through that again today, up over $3,900 today
It's not rocket science guys… you can learn to trade and make money in any market.
Take your education to the next level.
Source: PennyPro.com | Original Link